The Meliá Phuket Mai Khao, Thailand's largest island's first wellness-inspired resort, has opened with a laid-back beach club and private pool villas on Phuket's longest sandbar.
This is Meliá Hotels International's second five-star resort in Thailand, and it's part of the company's strategy to expand its brand throughout Thailand.
On December 1, Meliá Phuket Mai Khao opened its doors to the public for the first time, on eight acres of Phuket's northwestern coastline on the Andaman Sea.
Thirty-five minutes from Phuket International Airport and close to a variety of attractions, including Mai Khao Marine Turtle Foundation, Sirinat National Park, and Wat Phra Thong temple, the Phuket Villa Group-owned resort offers 70 private villas and 30 suites.
To compliment Mai Khao Beach's sandy shore, the resort's design incorporates traditional Thai aesthetics with a dash of Mediterranean flair and a neutral colour palette. Natural light and a tropical climate are accentuated by high ceilings and elegant metal screens.
The 30 one-bedroom suites and 70 one-bedroom villas at Meliá Phuket Mai Khao are modern, light-filled, and spacious, with a focus on simple, clean lines and indoor-outdoor living.
Three types of accommodation are available at the resort. Whether it's an outdoor bathtub, a private plunge pool, or a wellness arrangement, each one has a single bedroom and is distinct due to an anchoring amenity.
To take advantage of Phuket's tropical climate, every suite and villa has an open-air bathtub, an open-air shower, and an outside terrace. Stunning plants and fittings like white stucco external walls also offer hidden pockets and complete solitude.
There are cabanas in the 78sqm suites and private plunge pools in the 85sqm one-bedroom villas.
Tempur-Pedic pillows, scented bath salts, a fit ball, and a yoga mat are all included in the 15 wellness villas, which are the highest-end accommodations on the resort's property. A daily 60-minute massage is a feature of a healthy villa vacation.
Every room has a 43-inch LCD TV with satellite channels, a Bluetooth speaker, a Nespresso coffee maker with premium coffee capsules, and more.
The minibar has healthy snacks such as energy bars on request. Trays and tissue boxes made from banana leaves are among the sustainable items in the suites and villas.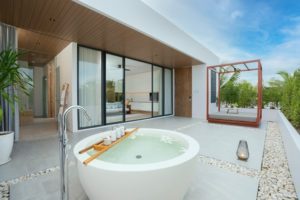 Luca Mancini, the resort's culinary director, oversees four dining outlets that bring a touch of the Mediterranean to Phuket's culinary scene.
Gastronomic excellence is celebrated at the Gaia Beach Club, which sits adjacent to a framed beach pool surrounded by cabanas, sun couches, and an open kitchen that serves Mediterranean and fusion cuisine.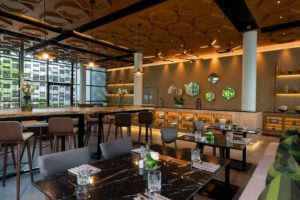 SASA is an upscale all-day dining restaurant serving international and Thai cuisine in a cosy, wood-panelled atmosphere. At SASA, you may start your day with a healthy, freshly prepared breakfast, as well as Thai-inspired lunch and dinner choices.
Besides offering a relaxing atmosphere with plush sofas and a selection of literature, the Elyxr Café also provides coffee and tea.
The Pool Bar is a swim-up establishment in the resort's heart, serving a variety of drinks such as fresh juices, smoothies, and cocktails, among other things.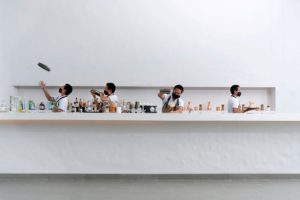 Meliá's distinctive YHI Spa is located behind the entrance and Elyxr Café and features 300 square metres of space and five treatment rooms. With its wide variety of treatments, the spa also offers poolside and private treatments for those who prefer to relax in the privacy of their own villas.
Guests can make use of a variety of stress-relieving activities like meditation, yoga, walks and bike rides in the beautiful surroundings of the resort.
In the gym, you will find treadmills and ellipticals as well as exercise cycles and weights.
Babysitting is available through the resort's Kidsdom kids club, which offers fun activities like arts and crafts.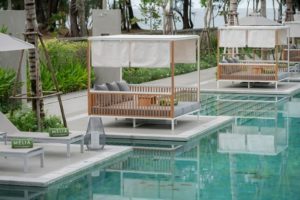 You can go horse riding on the beach or go scuba diving at Racha Yai or Koh Dok Mai or Phi Phi Island or Shark Point. You can also play golf at Blue Canyon Country Club, which is nearby.
Additionally, there are two 231-square-meter multifunctional rooms in the resort for business meetings and social gatherings. In total, the Grand Ballroom is 131 square metres and can accommodate up to 100 people for a cocktail reception or 88 people for lunch or dinner. For a boardroom meeting, the two adjoining 47sqm multipurpose rooms may accommodate up to 16 people.
The resort's event planners can help you design a menu that's tailored to your specific needs. Participants' well-being is also boosted by the inclusion of mini-mindfulness classes.
"Meliá Phuket Mai Khao's debut marks such an exciting time for Phuket, signalling our genuine optimism for the future of tourism on Thailand's largest island," said Mr Maetapong Upatising, Phuket Villa Group's Managing Director.
"The team and I are thrilled we could bring such a significant hotel debut to fruition during these unprecedented times, and we're delighted with the interest in our resort so far despite the difficulties stemming from the global pandemic," said Ms Magdalena Martorell, Meliá Phuket Mai Khao's General Manager.
"With its distinct focus on guest wellbeing, Meliá Phuket Mai Khao brings Meliá's sunny Spanish hospitality and passion for service to Phuket, as well as stringent health and safety measures to combat COVID-19," said Mr Ignacio Martin, Area Managing Director Southeast Asia of Meliá Hotels International.
Elsewhere in Thailand, the Meliá Koh Samui hotel debuted in January 2020 with a maritime motif highlighted by renovated merchant vessels as the centrepiece of the hotel's nautical theme. The rooftop bar at Meliá Chiang Mai will have two bars joined by a glass bridge when it opens in April 2022. The first Meliá hotel in Thailand, INNSiDE by Meliá Bangkok Sukhumvit, will open in 2023 with 176 guestrooms.
Don't forget that Jetstar operates to Phuket with 3 non-stop flights per week from Sydney and 2 non-stop flights per week from Melbourne.
Visit www.melia.com, call +66 76 563 550 or send an email to info@meliaphuketmaikhao.com for more information on Meliá Phuket Mai Khao.